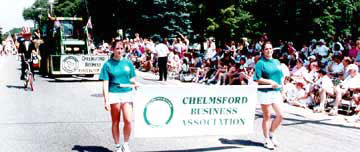 The CBA sponsors and participates in the following local events and projects.
The Chelmsford and North Chelmsford Holiday Decorating Committees
The Chelmsford Economic Development Partnership
The Chelmsford Business Association Scholarship Fund
Chelmsford Open Stewardship
WinterFest
Annual Mt. Wachusett Ski Day first Monday in March
The Fourth of July Parade – We build and enter a float in the town's annual 4th of July parade each year. Our floats have won Best Business Entry (1997, 1999, 2001), Best in Parade (2000, 2001), and Best Commercial Entry 2003.
The Annual Spring Town-Wide Litter Clean-up
The Skateboard Park
We also sponsor debates between candidates for Town Offices prior to Town elections.